Prepare for disaster with BOOMBOX.
Healthcare's first all-in-one IT Disaster Recovery Service
Communication is the lifeline of your business.
We keep you connected.
BOOMBOX is the all new I.T. disaster recovery service, perfectly designed for clients like you. Keeping your technology going, even during a disaster will give you the peace of mind and satisfaction of knowing your tasks can be fulfilled… no matter what. BOOMBOX is Healthcare's first ALL-IN-ONE, high availability, transportable and ready-in-minutes business connectivity service. All accessories needed for this service are included, giving your facility's staff the capability of getting back online as soon as possible, no matter the disaster.
You have IT with BOOMBOX
BOOMBOX delivers multiple access technologies and streamlines the network through an IP-based architecture, providing operators with the most compact, adaptable, and cost-effective platform for all emergency situations resulting in loss of connectivity and communications
Blue Purpose has incorporated over 30 years off industry experience in scalable healthcare infrastructure, business continuity, and disaster planning into the design of the BOOMBOX architecture. The robust capability set, mobility, compact size, and cost-effectiveness of the BOOMBOX enables a broad range of deployment scenarios for operators and emergency management personnel. The BOOMBOX case provides a safe and sound home for your equipment. Its lightweight and compact design make it easy to store and retrieve when needed.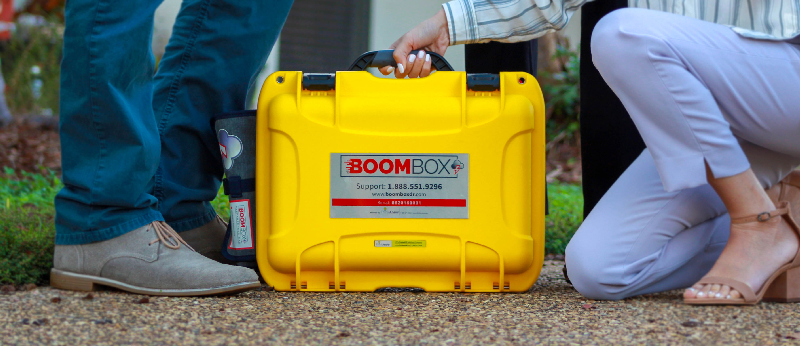 Customized health check report
Always be prepared and have the peace of mind that BOOMBOX is ready to go when called upon. This service includes customized reporting, providing a health check report and suggested actions for your equipment.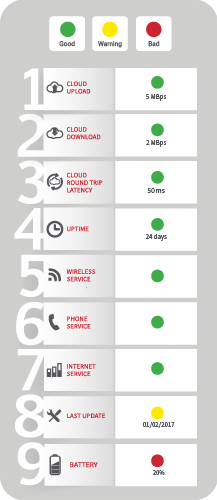 Did you know?
ESG reports, 50% of organizations can tolerate less than an hour of downtime before experiencing a significant revenue loss or other adverse business impacts.

Thunderstorm
There can be as many as 40,000 thunderstorms each day around the world.

Tornado
The Tri-State Tornado remains the deadliest in U.S. history. It killed more than 695 people.

Ice Storm
Georgia had a loss of 48 million dollars from an ice storm in Jan 2000

Hurricane
Hurricane Katrina is one of the costliest hurricanes at 108 billion dollars.
Earthquake
Great San Francisco Earthquake devoured more than 500 city blocks, 3,000 lives were lost and about 225,000 people lost their home.
Firestorm
Wildfires burned over 10.1 million acres across the U.S. in 2015.

And more…
There's more to IT
Designed to keep your information safe and secure. Communication encryptions between users and other locations are included.
Interworks with your existing company private phone network and local area network.
Multiple operation modes including stand-alone private networks, multi-site, or roaming interconnect with commercial operators networks.
Learn how to prepare for a disaster!
Contact us today at info@boomboxdr.com
Testimonials
What are people saying about BOOMBOX?
---
In healthcare, the continuous delivery of quality care is critical and Blue Purpose's BOOMBOX solutions' ability to enable long-term care centers to operate during natural and man-made disasters is not only remarkable but an absolute necessity. At Microsoft this is why we do what we do – we build resilient, secure, and compliant platforms and services that enable our partners, like Think Anew, to deliver exceptional and life-saving solutions like BOOMBOX.
Hector Rodriguez
CISO - Microsoft
For five weeks after Hurricane Michael, BOOMBOX technology solution provided a lifeline in the middle of a crisis so we could focus on our jobs and ensure the safety and care of our near 100 elderly residents, which is the most important thing to our staff and organization. From a business perspective, BOOMBOX prevented upwards of $500,000 in operational cash flow delays because we had connectivity and were able to submit billings on time.
Jeremy Ryman
St. Andrews Bay Skilled Nursing and Rehabilitation
The horrid conditions left by Hurricane Michael created significant challenges for many Florida residents, but none more so than seniors in skilled care facilities going without everyday necessities and at risk for medical care issues due to the lack of communications. We are thankful to Mr. Glidewell and his team for providing their BOOMBOX communications system.
Dennis Baxley
Florida Senator - Florida Senate Healthcare Committee